Prices start at $ 40 Per Square Foot Includes one line of gold emboss
$ 90 Minimum order for the standard colors
( .277 cents per square inch )
Hides come antiqued, that is distressed to look old
and to maintain the classic look of antique table tops and desks.
Brand new looking Desk Leathers are special orders.
For more information contact via the email on this website.

**************
Desk leathers come in seven basic colors.

BLACK
RUST BROWN
DARK BROWN
RED
BURGUNDY
GREEN
DARK GREEN
GOLD AND SILVER
EMBOSSING
*************************

Leather Desk Pads / Blotters
Custom Made --- Made to Order
For more Information email

*********************
FREE adhesive Spreaders &
FREE practice leather
Available with ALL Orders

****

HOW TO ORDER
1. Pick a color
2. Pick an emboss
3. Send with measurements to:
antiquef@bellsouth.net


Prices and other information will be returned ASAP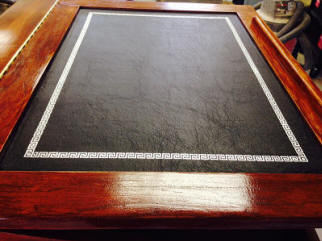 Frequently Asked Questions
Still Have Questions?

QUESTIONS Email: antiquef@bellsouth.net